Nose Job (Rhinoplasty) in Beverly Hills & Los Angeles
Rhinoplasty (or Nose Refinement Surgery) is the most intricate cosmetic surgery performed today. Rhinoplasty can reduce or increase the size of your nose, change the shape of the tip or the bridge, narrow the span of the nostrils, or change the angle between your nose and your upper lip. It may also correct a birth defect or injury and help relieve some breathing problems.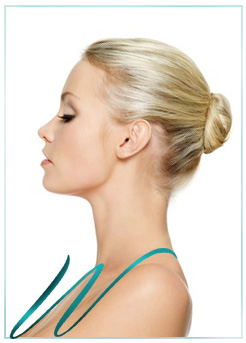 The best candidates for Rhinoplasty are people who are looking for improvement in the way they look, are physically healthy, psychologically stable, and have realistic expectations. During the initial consultation, the cosmetic surgeon will evaluate the structure of your nose and face and discuss the possibilities for enhancement with you. The Doctor will also explain some factors that can influence the procedure and results. These factors include the structure of your nasal bones and cartilage, the shape of your face, the thickness of your skin, your age, and your expectations.
Be sure to tell the Surgeon if you have had any previous nose surgery or an injury to your nose. You should also inform your surgeon if you have any allergies or breathing difficulties, if you are taking any medications, vitamins, or recreational drugs and if you smoke.
The Surgeon will give you specific instructions on how to prepare for surgery, including guidelines on eating and drinking, smoking, taking or avoiding certain vitamins and medications and washing your face. Carefully following these instructions will help your plastic surgery go more smoothly.
Rhinoplasty usually takes an hour or two, though complicated procedures may take longer. During surgery, the skin of the nose is separated from its supporting framework of bone and cartilage, which is then sculpted to the desired shape. The nature of the sculpting will depend on your problem and the cosmetic surgeon's preferred technique. Finally, the skin is redraped over the new framework.
Most Physicians place nasal packs or soft plastic splints in your nostrils, a procedure perceived by many patients as unpleasant and uncomfortable. Our Surgeons use the most advanced surgical techniques, allowing us to avoid packing the nose with gauze in most of the cases. When the surgery is complete, a splint will be applied to help your nose maintain its new shape.
After surgery, especially during the first twenty-four hours, your face will feel puffy, your nose may ache, and you may have a dull headache. You can control any discomfort with the pain medication prescribed by the plastic surgeon. Plan on staying in bed with your head elevated for the first day.
You will notice that the swelling and bruising around your eyes will increase at first, reaching a peak after two or three days. Applying cold compresses will reduce this swelling and make you feel a bit better. Most of the swelling and bruising should disappear within two weeks.
Minor bleeding is common during the first few days following surgery, and you may continue to feel some stuffiness for several weeks. The Surgeon will ask you not to blow your nose for a week or so, while the tissues heal. After 7 to 10 days, all dressings and stitches will be removed.
Most Rhinoplasty patients are up and about within two days, and able to return to school or work a week following surgery. The plastic surgeon will give you specific guidelines for gradually resuming your normal activities, but generally you should avoid strenuous activities for two to three weeks. You should also avoid hitting or rubbing your nose, or getting it sunburned. Be gentle when washing your face and hair or using cosmetics.
Day by day, your nose will begin to look better and your spirits will improve. Even though it will take months for the final results to emerge, you will be able to enjoy your new look a week or two after surgery.
Beverly Hills Plastic Surgeons is committed to enhance your natural beauty and help you achieve the look you desire. Along with nose surgery (rhinoplasty) we specialize in breast augmentation, breast implants, liposuction, nose job, weight loss surgery and abdominoplasty. We also provide treatment for bunions and hammertoes.